Charisma Pros
"The Connection to the Best!"
---
CLARA TRUSTY
---

Award Winner

Funny Lady

Meeting Planners Delight

Clean Humor
---
HOUSEWIFE WILL SURPRISE THE ATHLETIC WORLD
IF IN THE YEAR 2008, THERE IS AN INTERNATIONAL COMPETITION OF THE OCTOTHAN...8 DIFFERENT EVENTS...ALL OF THEM RESEMBLING HOUSEWORK.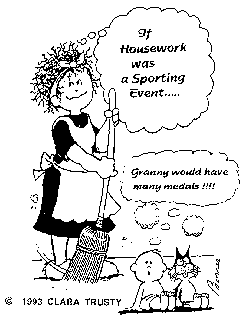 Clara Trusty, sixtysomething, housewife from Fountaintown, Indiana could astound the Sporting World with her performance in the main event! Trusty says "After doing it for more than fifty years, I feel it is about time housework was elevated to the elite status it really deserves." When asked if she will go to training camp, Clara replied, "No, I will stay home and step-up cleaning and canning."
Trusty is very confident that should a yelling match be staged, she will be a shoo-in. Clara has won the husband calling contest at the Indiana State Fair four times. She was married to the same guy for 46 years, is the mother of four, granny to many and house-athlete extraordinaire.
Clara Trusty will consider it a pleasure to leave the farm and join your group to share her hilarious look at life.

---
COMMENTS FROM CLIENTS
"Clara more than delighted the audience ... an enjoyable evening."
3M Visual Systems
"Our company president ... still quotes you at meetings."
Seedex
"So many people have personally expressed how much they enjoyed your delightful program. Our group is very reserved, so this is a great compliment."
Bank One
"You will want to stand up and cheer for this great entertainer."
Avon Products
"...thank you for your wonderful presentation...you had us hooting and nodding our heads in recognition until we hurt oursevles!"
Columbia Sunrise Hospital, Las Vegas
---
CLARA'S POPULAR PRESENTATIONS

Support The Home Team

Sixty Isn't Fatal

An Empty Nest Can Be A Happy Nest

Take Time To Laugh

Life On The Edge Of The Cornfield

Learn To Like, Love, Laugh and Live

Humor Can Help Heal

Surviving Anything
---
Clara Trusty's humor and wit provides audiences with an uplifting program. Relating to an audience is easy for Clara. Being the oldest of eight children, a 4-H leader, a secretary, a farm wife, and a former hospital employee enhances her ability to go with the flow and be flexible.


| | |
| --- | --- |
| | The role of humor in the cancer recovery process is a subject of which Clara is quite knowledgeable. She fought the battle, which began in 1991, and recently passed her latest examination without a hitch. How her humorous attitude played an important role in her recovery is an inspiration to any person or family member who has dealt with or is currently faced with physical and emotional battles. |
---
"A cheerful heart is good medicine, but a crushed spirit dries up the bones" -- Proverbs 17:22
---
Contact: Charisma Pros, division of ARREC
116 West Osage

Greenfield, IN 46140 USA

+1-317-462-4245
---
Go to ....



---
---