September 13, 2000
Greenfield Country Club
Greenfield, Indiana
Proceeds to benefit the Native American Recreation & Sport Institiute (NARSI).
an educational program of the
American Recreation Resource and Education Center, Inc (ARREC)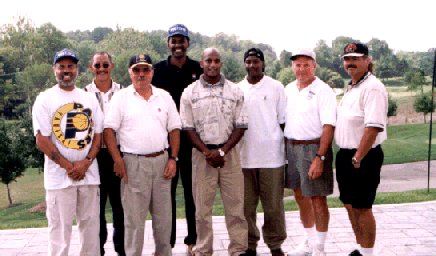 Some of the 1999 Circle of Hope golfers
Circle of Hope Golf Classic

Honorary Chairman George McGinnis

Greenfield Country Club
Greenfield, Indiana
The Circle of Hope Golf Classic is an annual fund-raising activity of the American Recreation Resource and Education Center, Inc. (ARREC,) a non-profit organization dedicated to the improvement of youth sports and the well-being of the nation's children.
Have a "doggone" good time at the
Circle of Hope Golf Classic!
Enjoy a great golf experience.
Help support ARREC, a
non-profit organization.
Mail registration and payment to : ARREC Greenfield Office 1547 N State St. Greenfield, IN 46140

For further information call: (317) 604-1649
or

gramshep@yahoo.com
All contents Copyrighted © 1993-2018 by Judith G. Shepherd unless otherwise specified. This information is provided "as is" without warranty of any kind, either expressed or implied, including, but not limited to, the implied warranties of merchantability, fitness for a particular purpose, or non-infringement. This information could include inaccuracies or typographical errors. Changes may be periodically added to the information herein.