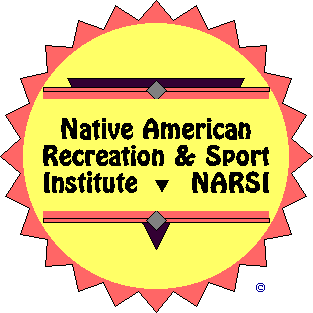 Annual Native American Recreation Education Conference
May 1-6, 2000 Tucson, AZ
Conference Registration -- Misc. Conference Information

Presented by the
American Recreation Resource and Education Center, Inc (ARREC)


Leaders and Department Directors are Invited to Attend.
Tribal Council Members
Recreation
Health
Wellness
Youth
Drug Elimination
Housing Authority
Education
Room Reservation Deadline
April 1st.
Special Rate Code: ARREC/NAREC
Embassy Suites Airport Hotel
520-573-0700

$89.00 per night + tax for single or double including
breakfast and afternoon refreshments.

New Millennium Schedule Of Events!

Native American Recreation
Education Conference (NAREC)

Check in for conference on Sunday, April 30th 6:00-8:00 p.m.
Don't miss out on NARSI classes and Clinics
Pre-register by March 17. Payment due by April 1.
May 1: Learn how to whisper to and how to dance with a horse. Then, apply the skills during a riding experience. This is a full day event and lunch is included. Horsewhisperer Frank Bell, Dances With Horses, Inc. will conduct the clinic. Video,lunch, and ride are included.
May 2: Native American Youth Recreation and Sport Administration (NAYRSA) This two
day class is for directors and assistant directors. Individuals who are in a leadership capacity will gain valuable information from this program. It also includes the NAYRSC curriculum.

May 3: Native American Youth Recreation and Sport Coach (NAYRSC) program is recommended for any one coaching youth sport. Learn the "how-tos" of coaching today's children. Communication, safety, teaching skills, and working with parents are just a few of the techniques gained from this course.

May 4: Coaching Youth Golf conducted by Debbie Crews, Ph.D. and LPGA Pro Instructor, Arizona State University. In this morning session learn techniques, how to implement a youth program, and lots of other valuable information. The afternoon clinic, Coaching YouthTennis, Scott Schall, USTA instructor, will be held at the Randolph Tennis Center
May 5: Coaching Youth Archery clinic will be at PSE Inc. It is the largest manufacturer of archery equipment in the world. After a tour of the plant, Kathy Greene, an acclaimed instructor will conduct the coaching clinic. This is a full day of activity and learning.
Jacob Y. Flores is the instructor for the Conflict Resolution workshop on Saturday, May 6th. This is an advanced class and highly recommended for leadership and for any one working with children and parents. Learn excellent techniques to apply to your personal life, too. Study materials and lunch are included.
Mail or fax your conference registration before March 17th. Pre-payment is required and due no later than April 1st. Make check payable to ARREC. Send to 1547 N State St., Greenfield, IN 46140. Call: (317) 604-1649.
Embassy Suites Tucson International Airport





All contents Copyrighted © 1993-2018 by Judith G. Shepherd unless otherwise specified. This information is provided "as is" without warranty of any kind, either expressed or implied, including, but not limited to, the implied warranties of merchantability, fitness for a particular purpose, or non-infringement. This information could include inaccuracies or typographical errors. Changes may be periodically added to the information herein.